I am a Leadersmith. I help others become better leaders. In this podcast, we discuss all things related to leadership, and I can help you become the kind of leader that you would want to follow. We will talk about leadership in business, the home, and society. #DarinGerdes. #leadership #leadersmith
Episodes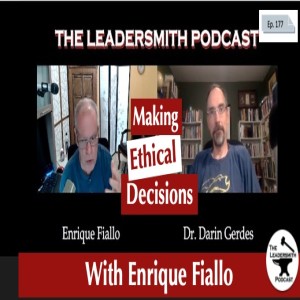 Saturday Jun 26, 2021
Saturday Jun 26, 2021
In this episode, I welcome Enrique Fiallo. Enrique has an incredible story.   
Enrique is a former CEO of a publicly traded company. He made some unethical choices as CEO and served time in prison. While in prison, he talked to other inmates to understand how they thought about what they did and he found that it mirrored his experience. In our talk, he will share what he learned from his experience. We will talk about how pressure and small decisions impact ethical choices.
Enrique is now a speaker on ethical decisions and consequences. His message is powerful.
If you would like to get in touch with Enrique, please
email him at enrique@fiallo.com
Or, go to his website: www.fiallo.com
If you enjoyed this episode, please consider subscribing and tell others who might benefit from this podcast.
I would like to hear from you. You can leave a comment below.  I would like to hear if this was useful.
Send me a Tweet: @daringerdes or leave a video message: https://flipgrid.com/leadersmith 
Join our FACEBOOK COMMUNITY and continue the discussion there: https://www.facebook.com/groups/learnleadership/
or Join our LinkedIn community: https://www.linkedin.com/groups/13966891/
Comments
(2)
To leave or reply to comments, please download free Podbean or
this was very thoughtful. I am motivated to write down my core values and get involved with sharing them with my employees