I am a Leadersmith. I help others become better leaders. In this podcast, we discuss all things related to leadership, and I can help you become the kind of leader that you would want to follow. We will talk about leadership in business, the home, and society. #DarinGerdes. #leadership #leadersmith
Episodes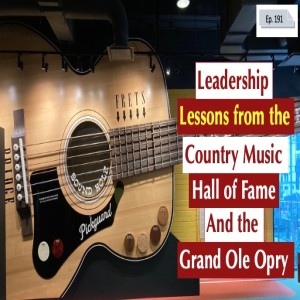 Monday Oct 04, 2021
Monday Oct 04, 2021
I am ignorant about country music, but during a recent trip to Nashville, I had the chance to visit both the Country Music Hall of Fame and the Grand Ole Opry. I drew a number of leadership lessons (and broader business lessons) from the experience and in this episode I discuss it with my colleague Maxwell Rollins. Maxwell is the Graduate Programs Director in the college of Business at CSU and  he has owned a Mobile DJ Business, (Jay Maxwell's Music by Request: http://charlestoneventspecialists.com) for 40 years. His DJs have entertained at more than 1000 weddings, and he is a wealth of information.
I also mentioned an article:
12 Christianese words and phrases we say:
https://www.propreacher.com/12-christianese-words-phrases-need-explain/
If you enjoyed this episode, please consider subscribing and tell others who might benefit from this podcast.
I would like to hear from you. You can leave a comment below.  I would like to hear if this was useful.
Contact me on Twitter or Gettr @daringerdes or leave a video message: https://flipgrid.com/leadersmith 
Join our FACEBOOK COMMUNITY and continue the discussion there: https://www.facebook.com/groups/learnleadership/
or Join our LinkedIn community: https://www.linkedin.com/groups/13966891/