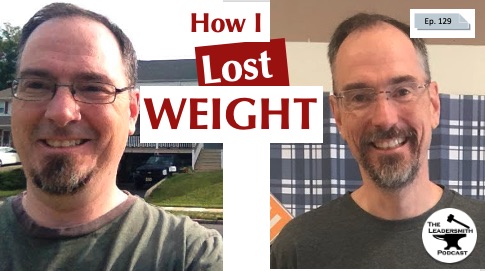 It is a new year. Welcome to 2021. From this point forward, I will be publishing two episodes per week (Wednesday and Saturday).
This first episode of the new year is a very different episode. Want to know how to lose weight? You probably want to lose weight fast. You probably want to lose weight quickly. I will talk about how I lost 40 lbs. and kept it off. I explain the process of weight gain and weight loss. I will equip you with what you need in order to be successful. You can do it!
I told you that you can see me in a before and after on YouTube. Check out this link to watch:
At the end of the episode, I mentioned a reading list. Check out these two books and this podcast episode:
Change anything — Kerry, Patterson, Grenny, Maxfield, McMillan and Switzler.
The compound Effect — Darren Hardy
Notable Quotables: Jim Rhon on Success [Leadership Podcast Episode 108] https://youtu.be/vQ1xgDL61Yk
Or watch it on YouTube:
I also mentioned the scale I use (I don't get any money for this):
Renpho Scale:
https://www.amazon.com/RENPHO-Bluetooth-Bathroom-Composition-Smartphone/dp/B01NALRONX
Here is the free App I use to track calories (I don't get money for this either).
Lose it app:
If you enjoyed this episode, please consider subscribing and tell others who might benefit from this podcast.
I would like to hear from you. You can leave a comment below.  I would like to hear if this was useful.
Send me a Tweet or Parley: @daringerdes or leave a video message: https://flipgrid.com/leadersmith 
Join our FACEBOOK COMMUNITY and continue the discussion there:
https://www.facebook.com/groups/learnleadership/
It is free. I want to help you become the kind of leader that you would want to follow