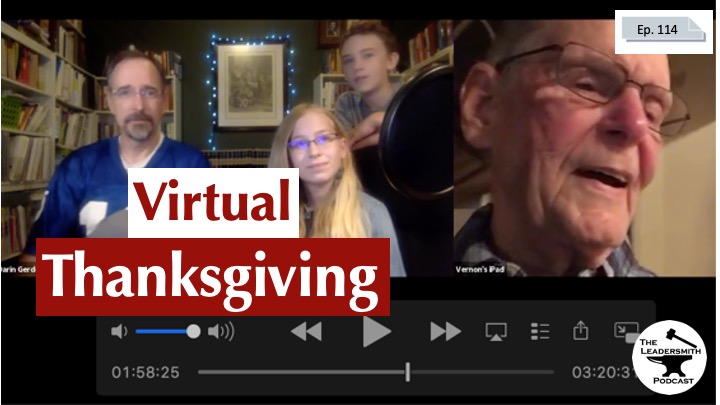 It is thanksgiving. Millions of Americans are traveling home to see their families. Governors across the states have instituted some heavy-handed mandates in order to prevent the spread of COVID-19.
Here are the articles I mentioned:
Here is the New York Times article:
https://www.nytimes.com/interactive/2020/11/24/upshot/thanksgiving-dinner-survey.html
Here is the NBC Affiliate article covering each state's
https://www.wsav.com/news/coronavirus/traveling-for-thanksgiving-check-out-covid-19-restrictions-by-state/
We will talk about the restrictions, but as importantly, we will talk about leadership and how leaders could more effectively navigate during these difficult times.
If you enjoyed this episode, please consider subscribing and tell others who might benefit from this podcast.
I would like to hear from you. You can leave a comment below.
Send me a Tweet or Parley: @daringerdes or leave a video message: https://flipgrid.com/leadersmith 
Join our FACEBOOK COMMUNITY and continue the discussion there:
https://www.facebook.com/groups/learnleadership/
It is free. I want to help you become the kind of leader that you would want to follow.
#thanksgiving #thanksgiving2020 #thanksgivingtravel #thanksgivingtravelrestrictions #cuomo #oregon #leader, #leaders, #leadership, #management, #Whatisleadership, #bealeader, #leadersmith, #BTKOLYWWTF, #leadershipdevelopment, #leadershipquotes, #leadershipcoach, #leadershipcoaching, #leadershipskills, #leadershiptraining, #manager, #managers, #management, #managementconsulting, #success, #successquotes, #successmindset, #successful, #successsecrets,  #boss, #bosslife, #bossquotes